50 of Georgia's finest potters were featured in the Perspectives Georgia Pottery Invitational held recently in Watkinsville, Georgia, USA. The event featured 3 exhibitions including the main exhibit "Participating Potters: 2018". Each artist contributed 2 of their own best pieces along with a favorite piece from another artist. Thus, visitors had the pleasure of viewing the work of about 100 different potters offering a wide range of styles, forms and colors. As if that wasn't enough, there was also a gigantic pottery sale with more than 6000 pieces of contemporary functional and decorative handmade pottery.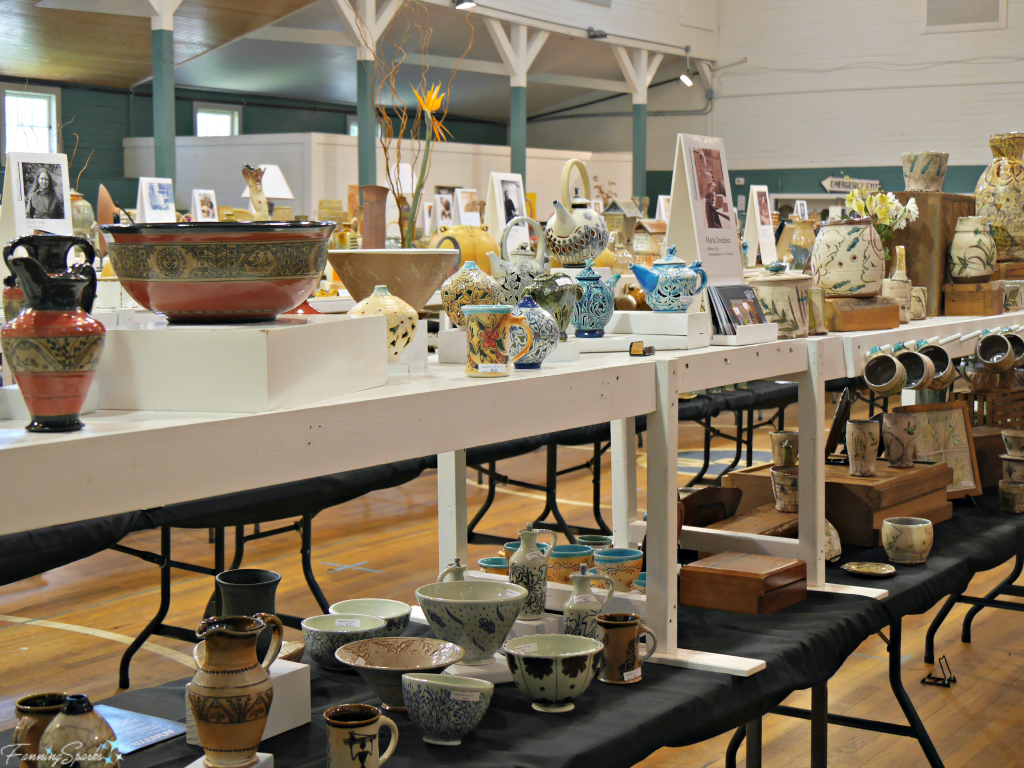 The show and sale, hosted by the Oconee Cultural Arts Foundation (OCAF), wrapped up on Sept 16 2018. Don't worry if you missed it, though, because I have lots of info and photos to share on the blog today. You may also want to make plans to attend the OCAF Holiday Market, scheduled for Nov 30 to Dec 2 2018 in Watkinsville GA USA, which will include pottery and many other art and crafts objects. See More Info below.
I spent several hours observing, absorbing and learning about pottery. But the highlight of my day was a gallery talk designed to "expand your pottery proficiency". It was led by Michael Pitts who is a well-known Georgia potter. To be honest, increasing my pottery proficiency was easy since I was starting at zero. Michael led our small group around the gallery exhibit and pointed out varies aspects of the work on display. It was fascinating to examine a piece and learn about the materials and techniques used to create it. We learned about types of clay and raw materials. We heard about thrown vs slab construction. We learned about glazing and its many variations in materials and technique. We heard about kilns and various firing techniques. I even learned about cones and what it means when a piece is "Cone 10" or "Cone 6". Cones, as Michael explained, are pyramid-shaped pyrometric devices used by potters to gauge a temperature equivalent during firing. Google "pyrometric cone" to delve deeper.
My pottery proficiency definitely improved but I have a long way to go. There is much more to making pottery than I ever imagined. The biggest surprise for me was that some techniques seem so unpredictable; I got the impression there's a lot of trial and error involved. For instance, I imagine a salt glaze finish, which is created by throwing salt into the kiln during the firing, must be incredibly difficult to control. The potter can't simply place the desired colors and textures on the pottery piece at least not with the precision one can achieve with a brush and paints. What an unpredictable challenge! Is it any wonder potters love their craft?
With all this in mind, I have a deeper appreciation for the beauty of this work. Here are some of my favorites from the exhibit. See the More Info section at the bottom of this post for the artists' contact information.
This beautiful piece, by Kathy King, is titled "Sawyer's Gift. The gallery card notes "B-mix clay, long red glaze, soda fired (cone 10)".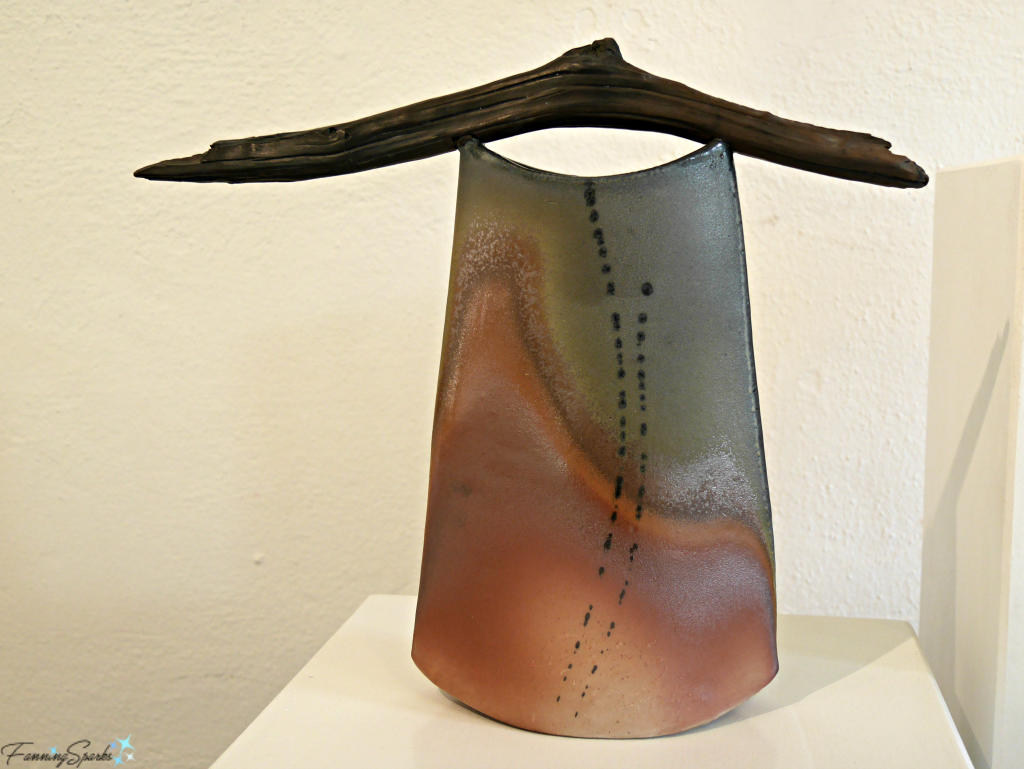 I love the lines of this handle from the "Armenian Basket" by Adrina Richard. The gallery card notes "Little loafers highwater clay, glaze inside (cone 6)".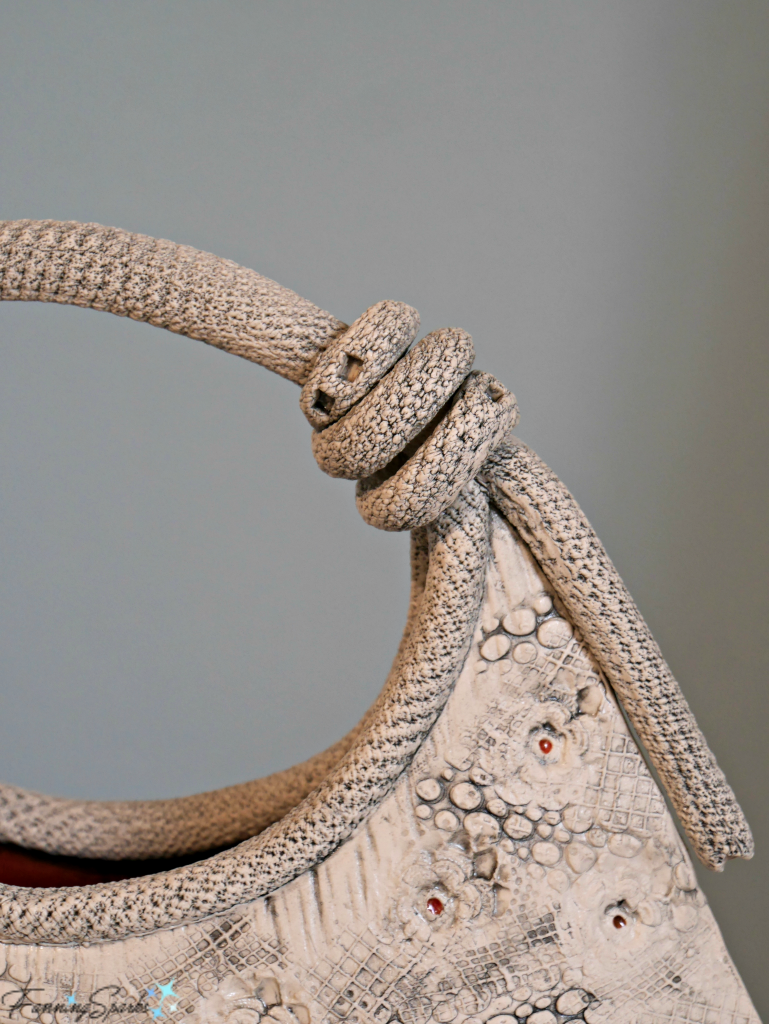 Here's another piece with gorgeous flowing lines. This "Cruet" is by Tripti Yoganathan. The gallery card notes "Porcelain, water blue glaze, soda fired (cone 7)".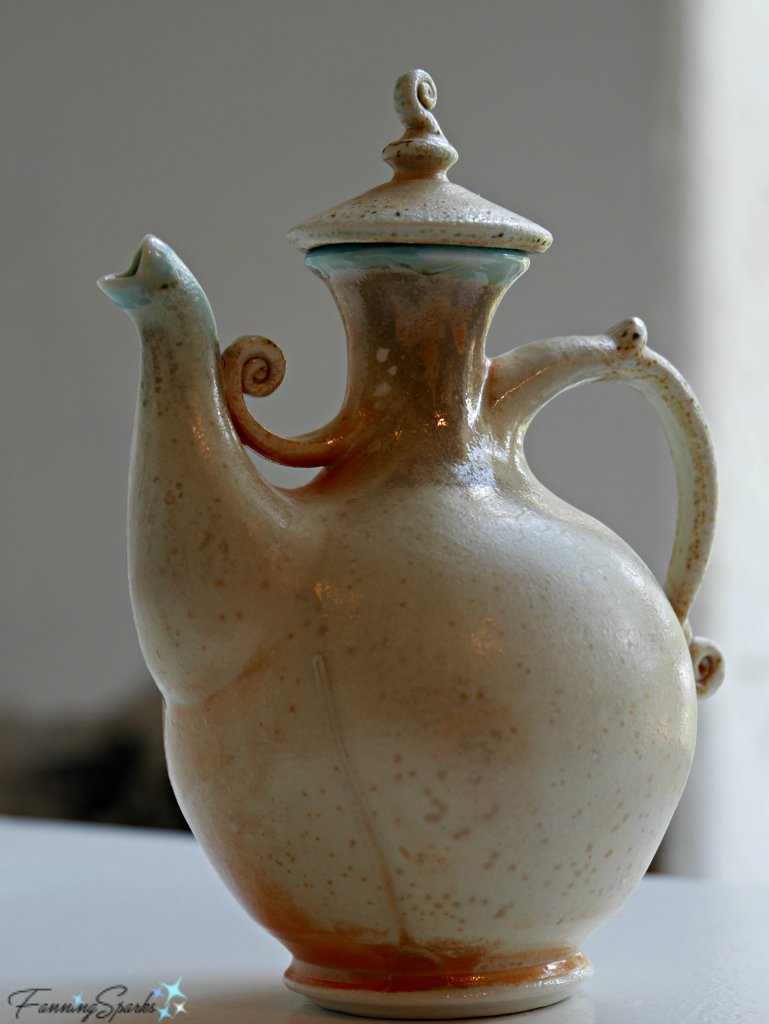 This charming teapot set is by artist Vernon Smith. While the colors are soft and calm, the pattern and texture give it lots of personality. We learned this unique treatment was likely accomplished with wax resist. The gallery card notes "Porcelain, white glaze".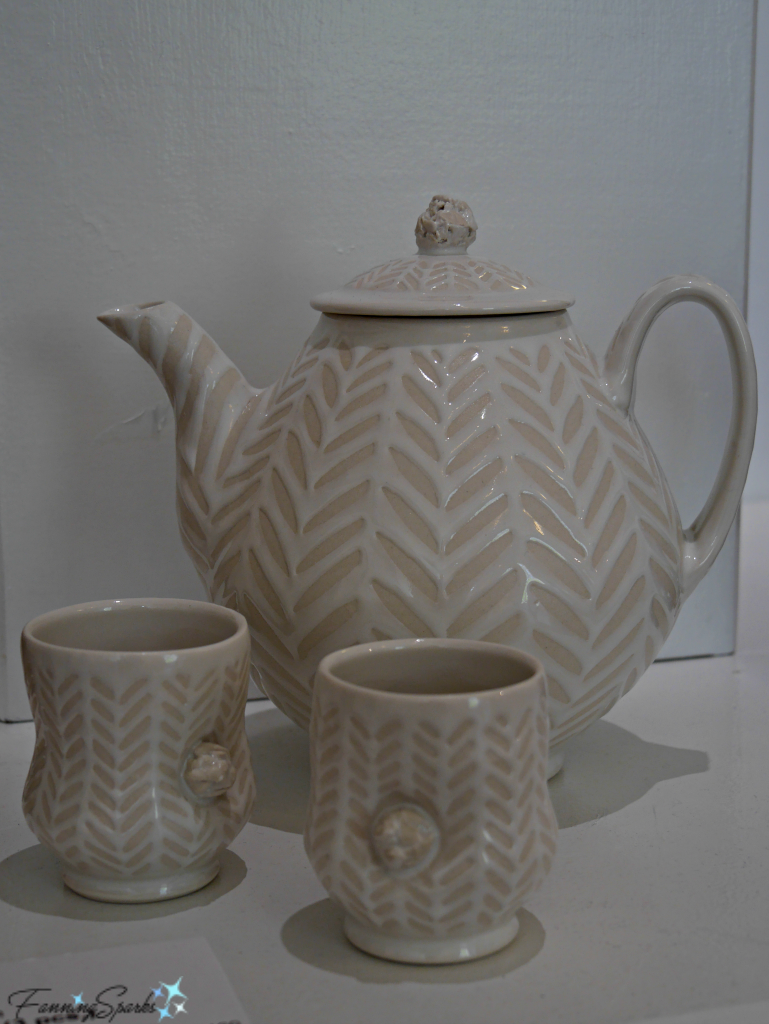 The hall gallery displayed a special exhibit called "Yes, it is clay" by Keok Lim. Keok was born in Singapore where she worked as a dentist before moving to Atlanta in 2001 with her family. I have a special place in my heart for Singapore having lived and worked there some time ago. But I would have loved Keok's work regardless of where she's from. It's her first big show but I can't imagine it will be her last. Her work is so amazing it warrants its own post but here are a couple of pieces to give you an idea.  The first piece is called "Backpack Story" and second one was labeled "Happiness Platter".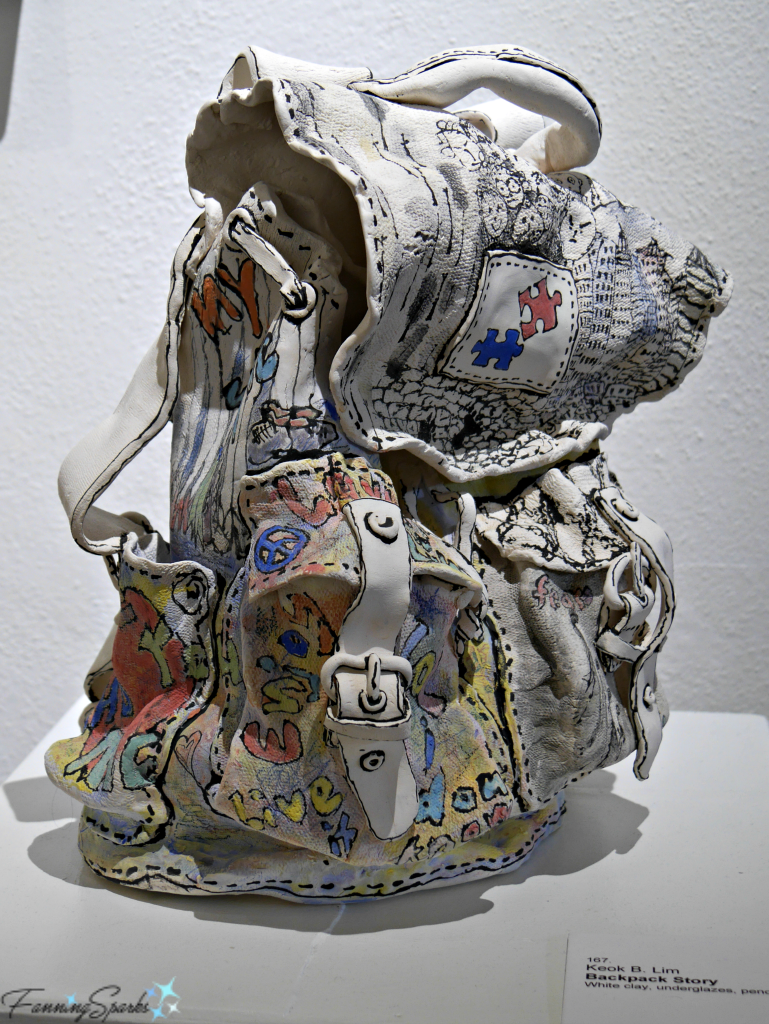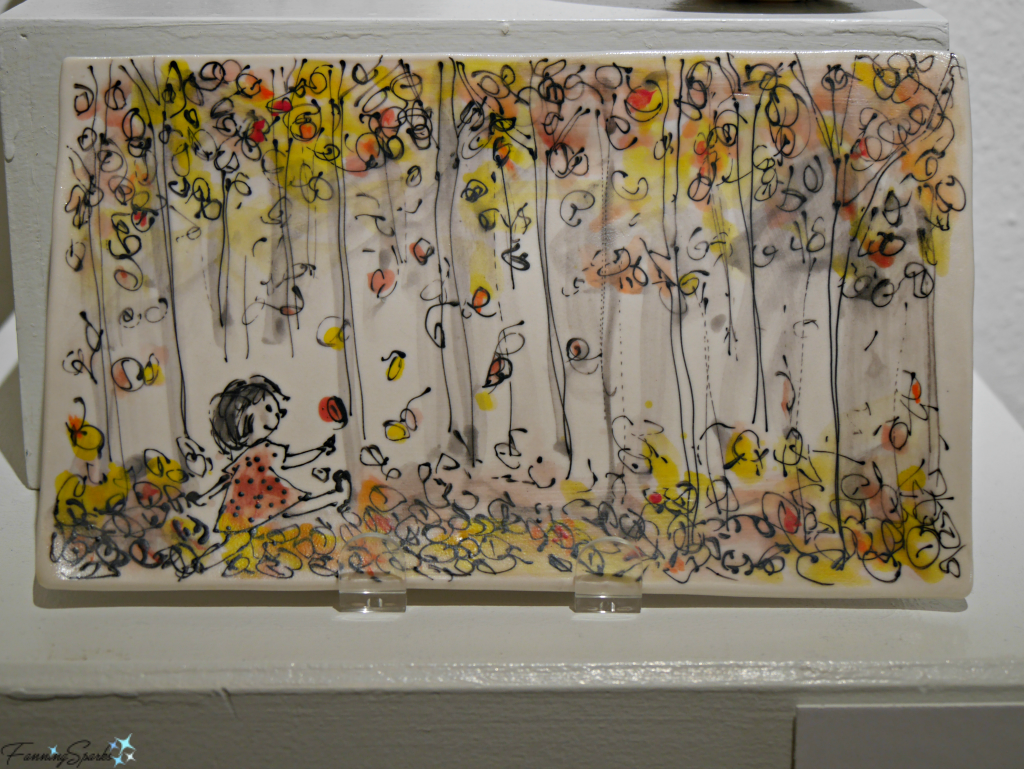 There were also a number of lovely pieces that caught my eye at the Pottery Sale. I couldn't resist imagining these pieces in my own home and life.
This beautiful scraffito vase is the work of Deborah Woodward Adornato. She thoughtfully posted an explanation of this technique. The artist builds the pots on a potter's wheel and allows them to dry to leather hard stage. A coating of liquid clay is applied and allowed to harden. Small wooden and metal tools are used to draw the designs by "scratching through" to the dark clay underneath. Picture this vase in a starring role on a set of beautifully styled shelves.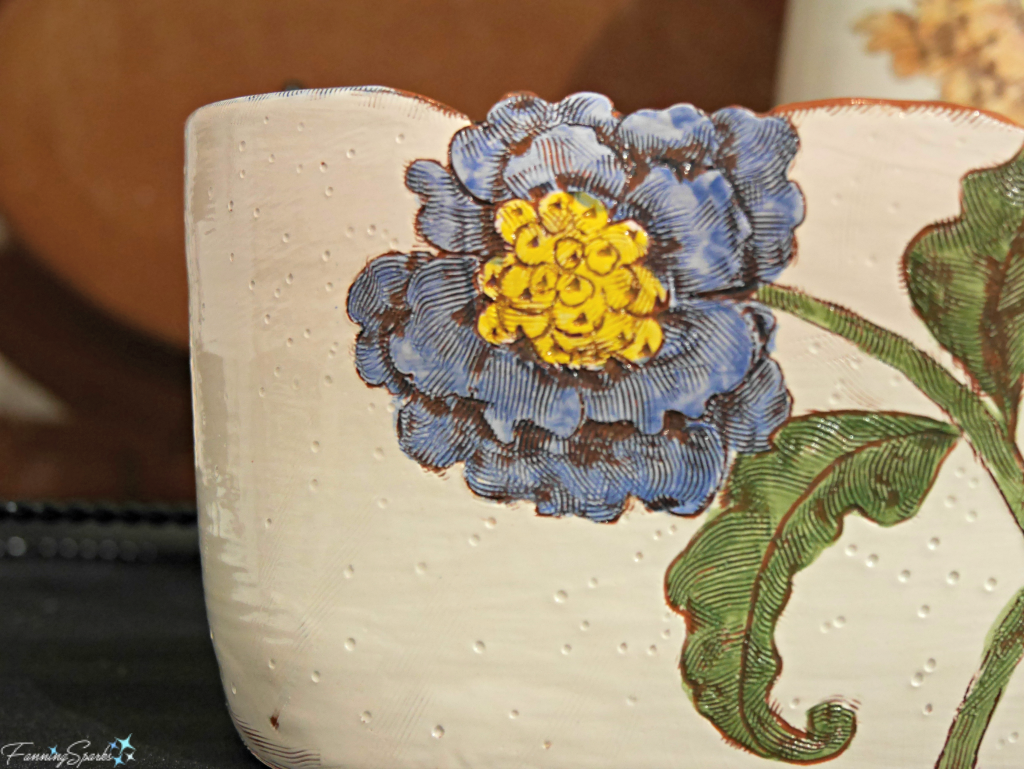 Barry Gregg's work was a crowd favorite. I heard one visitor say she came to the show specifically to see his work. It's easy to understand why; his pieces are whimsical and fun.  How could a dog lover resist these pieces?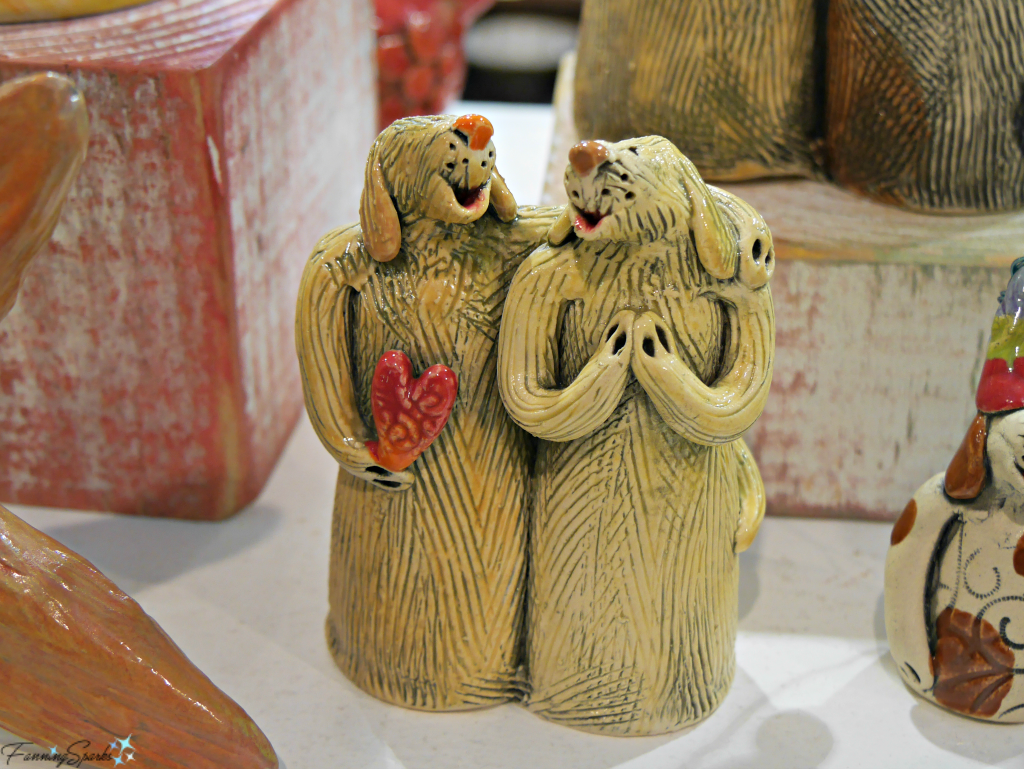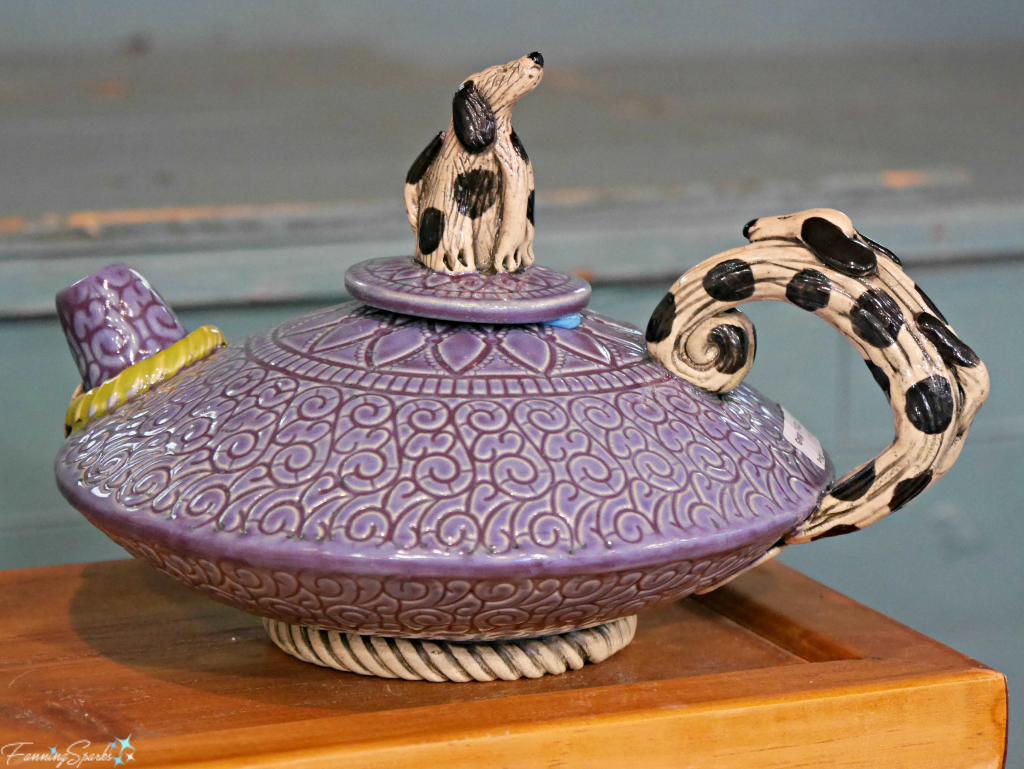 I admired the work of potter Minsoo Yuh for its delicate designs and Asian flair. This mug would be perfect for that morning cup of coffee. Minsoo Yuh's bowls and plates were also outstanding.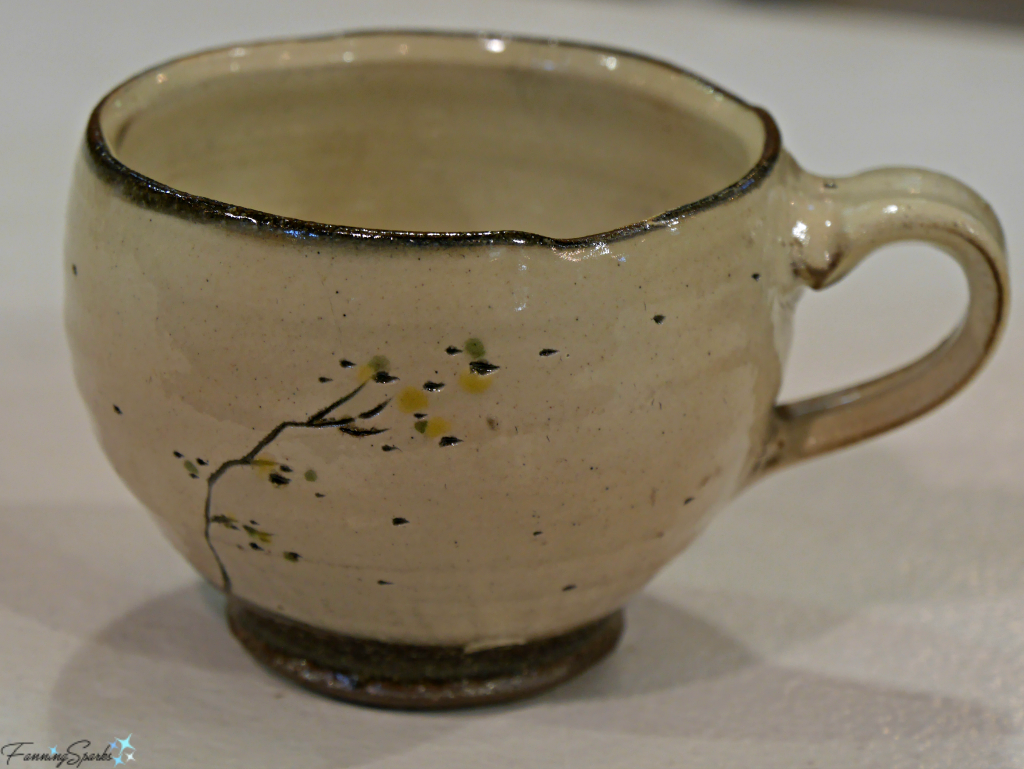 I'll wrap up with the work of Michael Klapthor which, if I were forced to choose only one, would be my favorite potter at the show. Here's his amazing piece, titled "Heavy Escort", from the exhibition. I love the old-timey feel of these robots.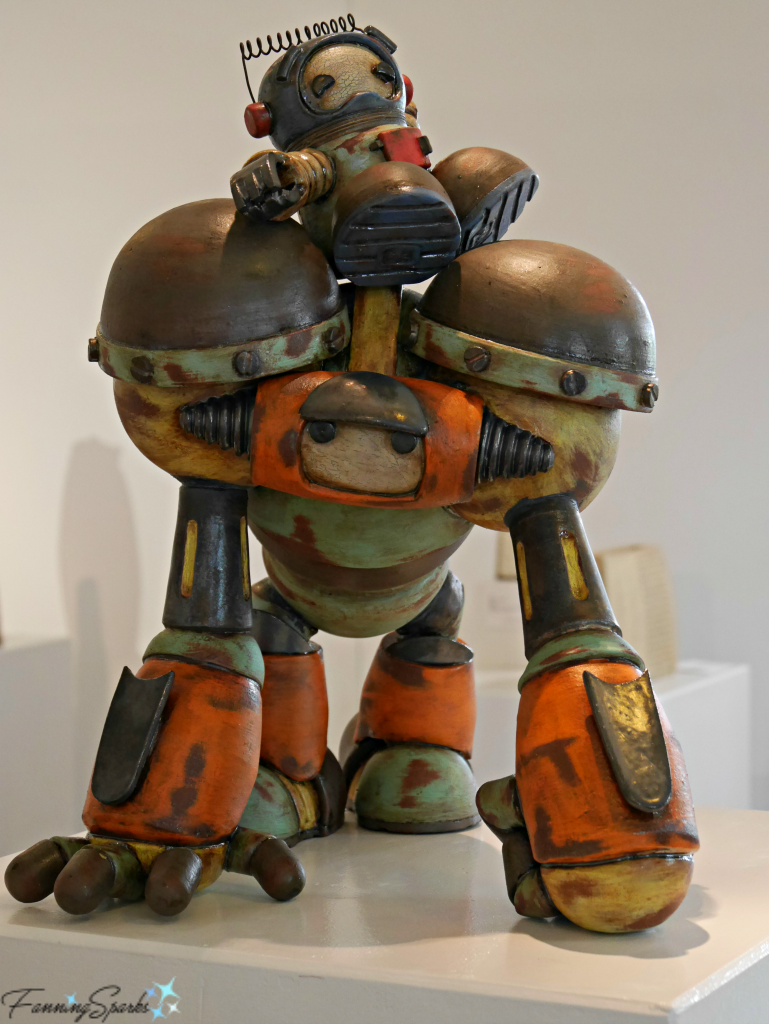 Aren't these plant pots amazing? They're perfectly on trend since succulents and house plants are all the rage right now.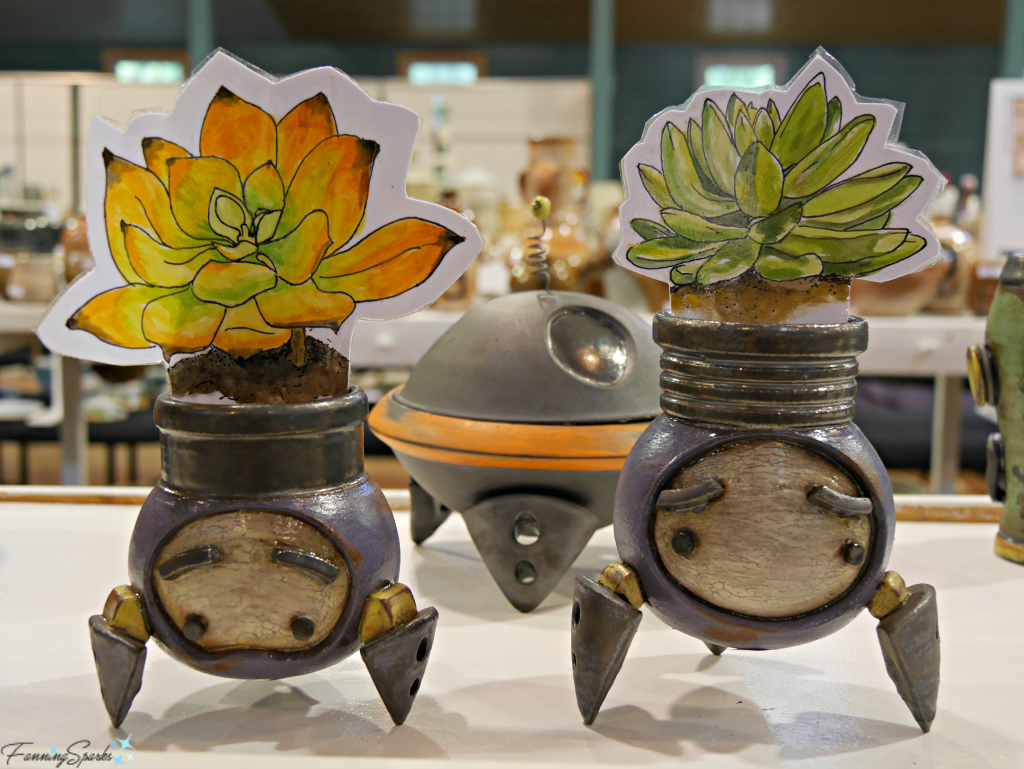 More Info
You can learn more about the Oconee Cultural Arts Foundation (OCAF) on their website.  Here's the link for info about the upcoming 2018 Holiday Market.
I've listed contact information for each of the artists mentioned in this post. I wasn't able to find complete information for everyone so if you have additions or corrections, please share in the comments.
Kathy R. King; Roswell GA; email kking111@bellsouth.net
Adrina Richard Earthworks; Atlanta GA; website
Tripti Yoganathan; Tucker GA; website; Instagram
Vernon Smith; Atlanta GA; website; Instagram
Keok Lim; Atlanta GA; website ; Instagram
Deborah Woodward Adornato; Alpharetta GA;
Barry Gregg Clayworks; Decatur GA; website ; Instagram
Minsoo Yuh; Athens GA; Instagram
Michael Klapthor; Scottdale GA; website; Instagram
Today's Takeaways
1. Consider purchasing a unique handmade item instead of one that is mass produced.
2. Consider supporting local artisans and craftspeople through the purchase of their products.
3. Seek out opportunities to learn about artisans and craftspeople either in your own community or when travelling away from home.