Do you remember Little Golden Books?  Did you have a favorite?
For those not familiar, Little Golden Books are children's books which have been immensely popular for the last 75 years.  There's an outstanding exhibit called "Golden Legacy: 75 Years of Original Art from Golden Books" currently being held at The Robert C. Williams Museum of Papermaking in Atlanta, Georgia.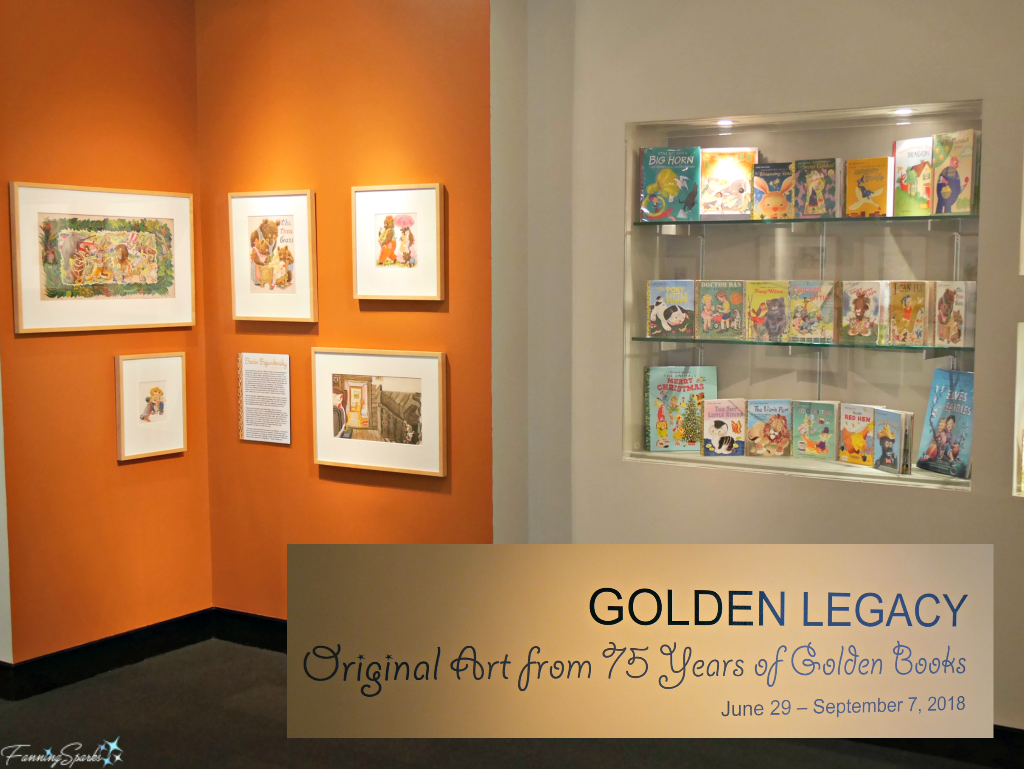 While I was familiar with Little Golden Books, I didn't really appreciate why they are so special until I visited this exhibit and attended an associated gallery talk.  Little Golden Books were launched in 1942 during the first full year of America's involvement in the Second World War.  This timing is significant because paper, ink and fuel shortages forced the publishers to find innovative, cost effective ways to offer books to the masses at affordable prices. Little Golden Books' publisher chose a unique format for the books; a child-sized 8" by 6.5" with a hard cover and a distinctive gold foil spine.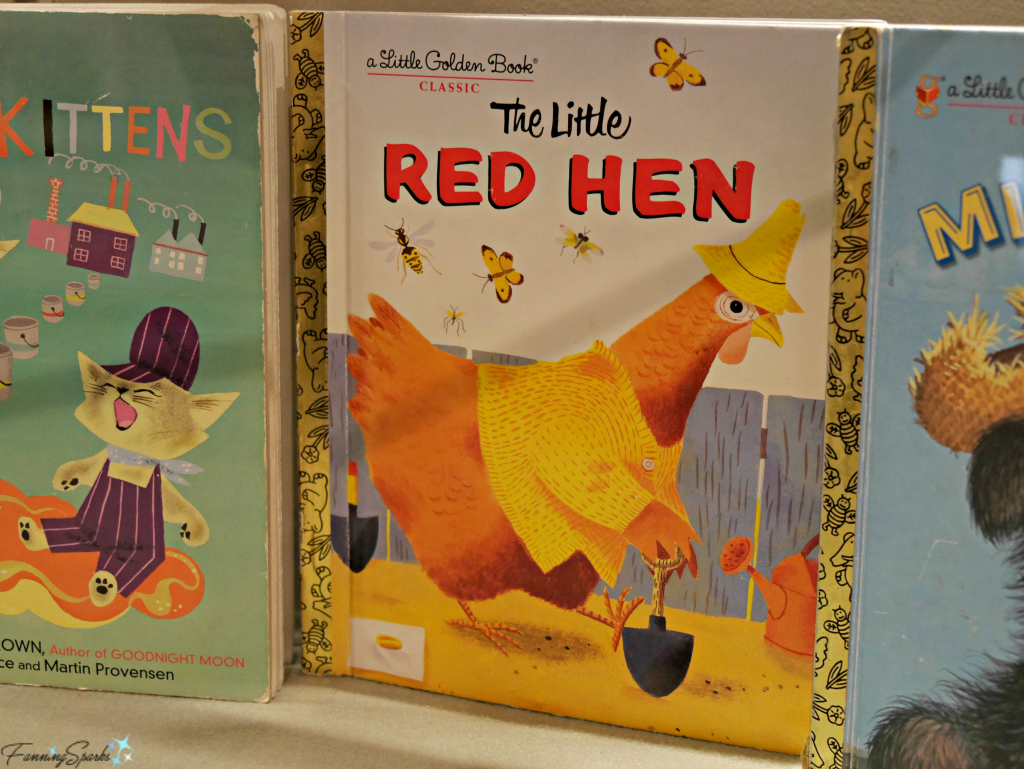 They chose well-written stories and displayed professional expert endorsements.  They also chose to emphasize original, high-quality illustration and engaged some of the best artists of the time.  But perhaps the biggest breakthrough was that for the first time children's books were readily available in large colorful displays at grocery and department stores priced at only 25 cents.  Little Golden Books made it easy and affordable for millions of young children and their parents to own children's books and, most importantly, to open up a new world of reading.  There's a nostalgic and emotional connection to Little Golden Books that lives on from generation to generation.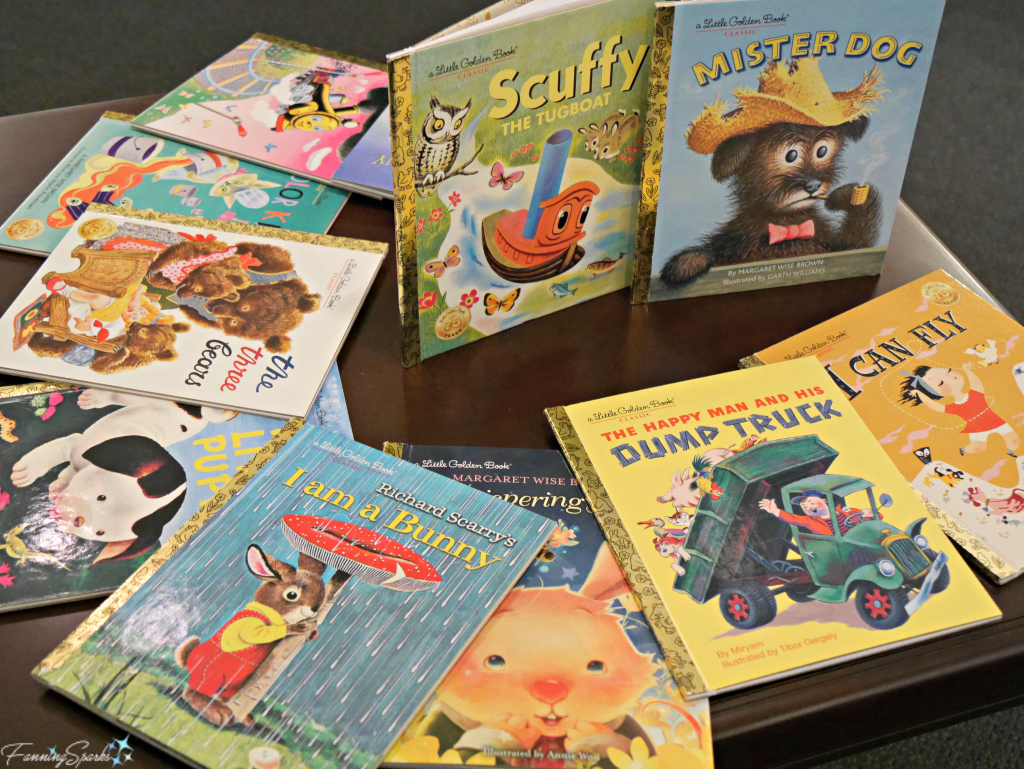 The Golden Legacy exhibit showcases the illustrations from numerous Little Golden Books.  Over 25 of the best known artists, such as Tibor Gergely, Eloise Wilkin, Garth Williams, Richard Scarry, Corinne Malvern, Jan Pfloog, Feodor Rojankovsky and Mary Blair, are featured.  This is where the magic happens!  I admit I never paid much attention to illustrations in children's picture books.  I may have admired a picture or two but I never fully appreciated this delightful art form.  After a few hours with the original artwork from Little Golden Books artists, I can see the attraction.  I can even see why someone, like the fellow gallery viewer I met, might want to collect these treasures and could end up with upwards of 500 children's books!
It was fascinating to see the transition from original artwork to book illustration.  Here's an example by Tibor Gergely from the classic Scuffy The Tugboat.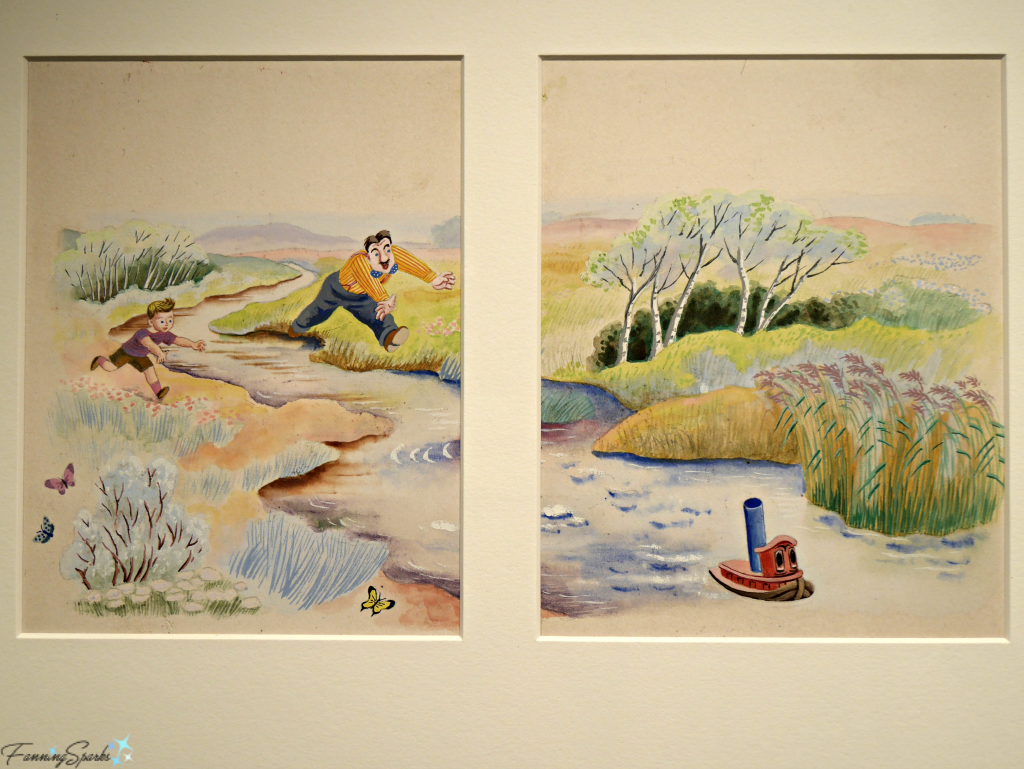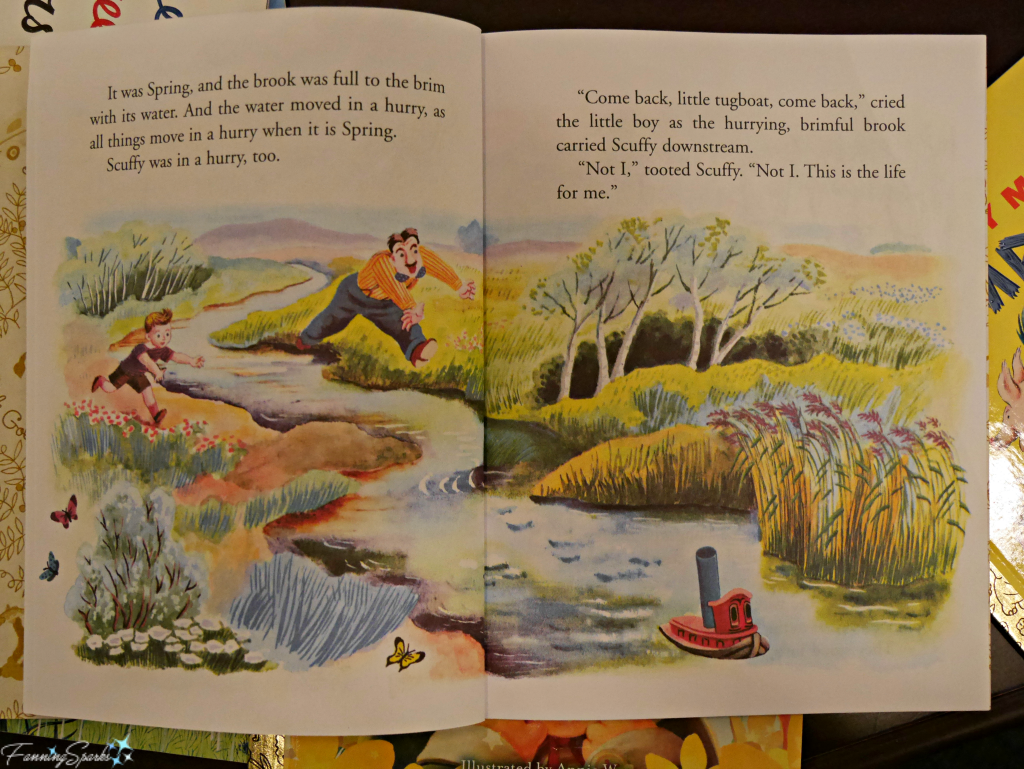 Richard Scarry illustrated and authored many Little Golden Books.  His iconic book I am a Bunny stars an adorable young rabbit in red overalls.  Scarry is quoted to have said: "It's a precious thing to be communicating to children, helping them discover the gift of language and thought."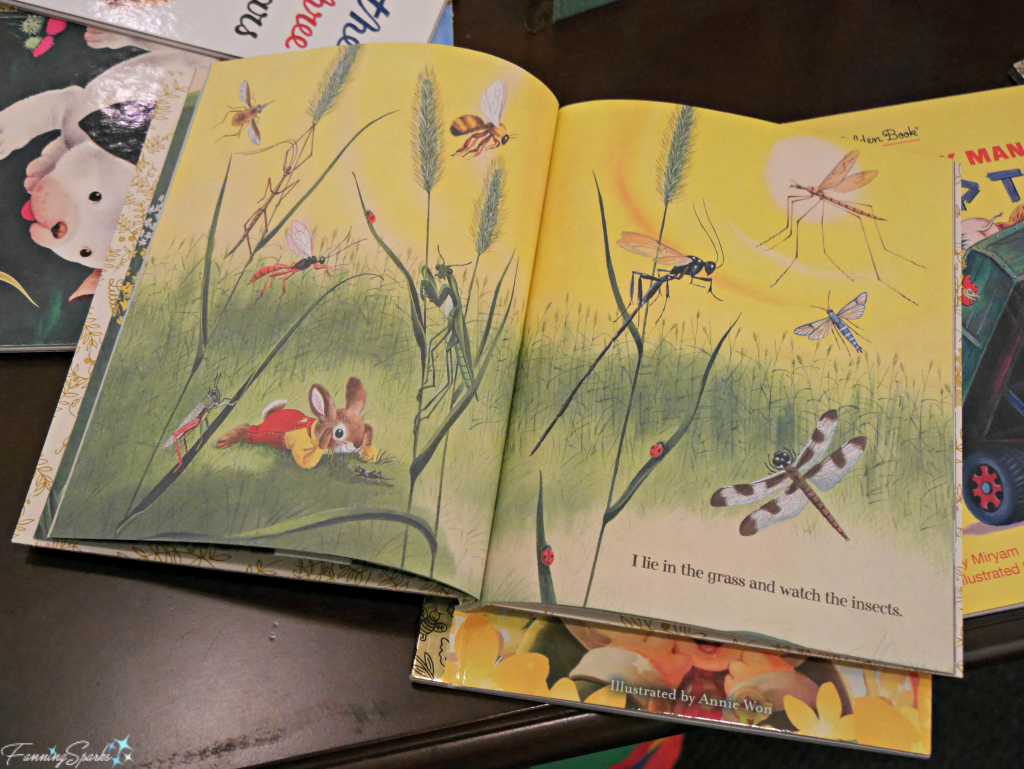 I found the work of Mary Blair particularly compelling.  Blair, perhaps best known for her accomplishments at Walt Disney Studios,  created the concept sketches for such animated feature films as Cinderella, Alice in Wonderland and Peter Pan, and designed the 1964-65 New York World's Fair exhibit "It's a Small World".  She also illustrated several Little Golden Book classics. Here's an example of her work from I Can Fly.  I inserted the accompanying text to give the full effect.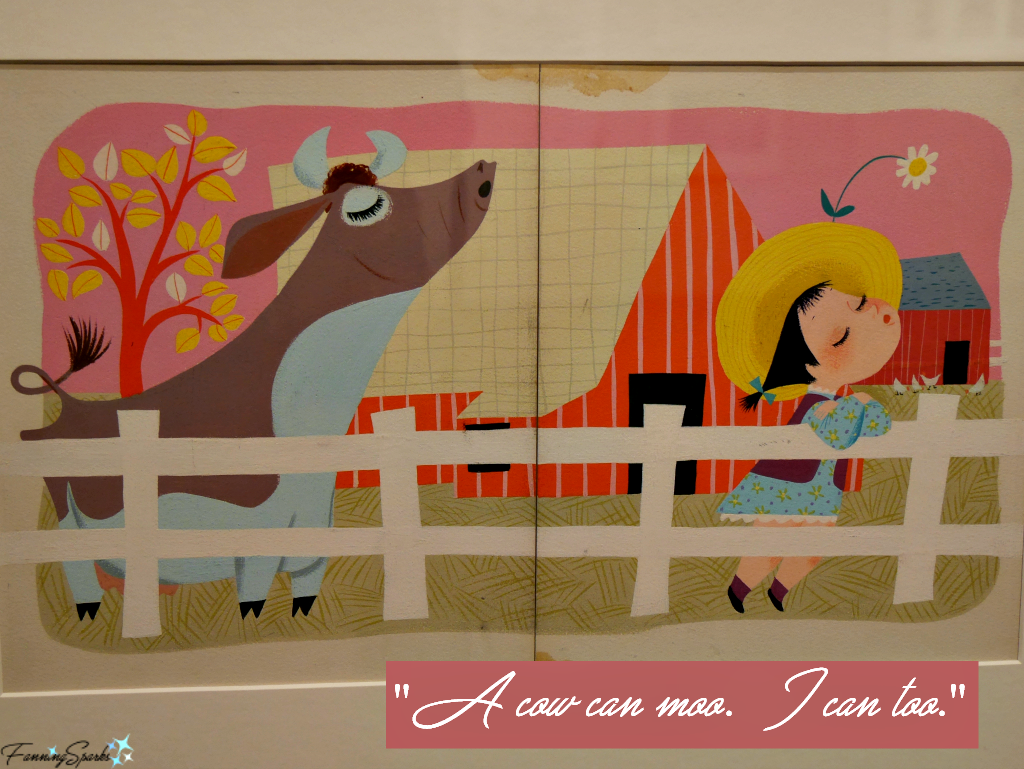 By happy coincidence, I already own a vintage 1954 copy of Heidi in Little Golden Book format.  The coincidence is twofold; I have an authentic reminder of the Little Golden Books exhibit and the street we just moved to is called Heidi Trail.  The story is adapted from the original by Johanna Spyri and it's illustrated by Corinne Malvern.  The below photos show this "much-loved" and a little worn copy of Heidi.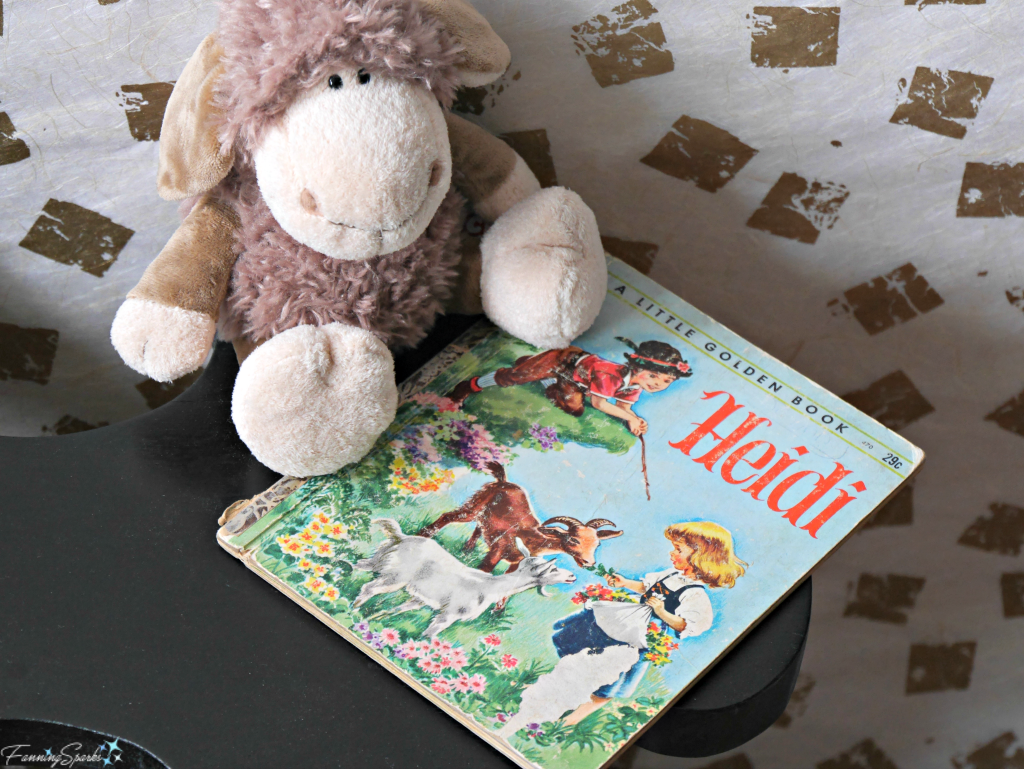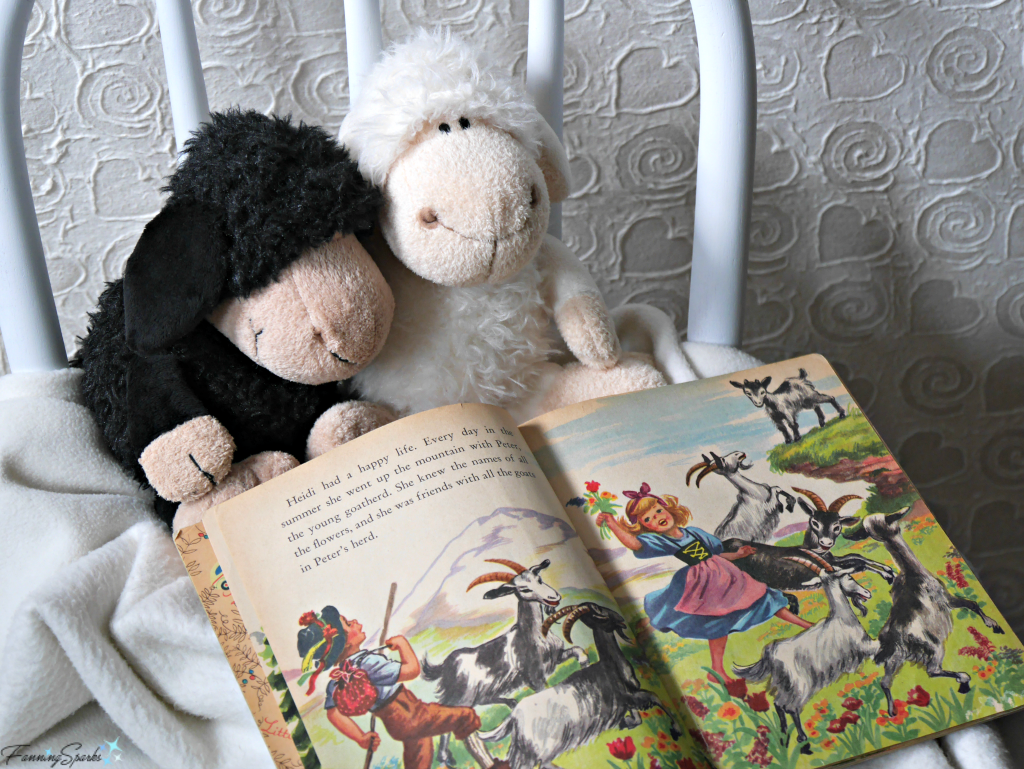 It strikes me that these beautiful illustrations could be incorporated into my home and surroundings.  They are, of course, an obvious fit for children's rooms, apparel and belongings.  But how could I weave them into an adult environment?  I'd especially like to play up the Heidi/ Heidi Trail angle.  I did some searching on Pinterest and found a few ideas (see More Info below).   Hmmmm…. my mind is spinning with the possibilities.
More Info
Learn more about The Golden Legacy: Original Art from 75 Years of Golden Books exhibit at the Robert C Williams Museum of Papermaking.  The exhibit is on until September 7, 2018.  Be sure to check it out if you're in Atlanta Georgia USA.
The Museum of Papermaking has an intriguing program of exhibits and events.  Recently, I attended their Natural Dyes workshop and shared my experience in this post on Natural Dye Making.
The Little Golden Books website also has some great information.
Here's the FanningSparks Pinterest board I created with ideas for using vintage children's books.
Today's Takeaways
If you have an opportunity to visit the Golden Legacy exhibit, it's definitely worthwhile.
Children's book illustrations open up a whole new world of art and creative adventures.
Consider weaving items with a nostalgic connection into your home.