Oh sweet Charleston, you did it again!  I was prepared to be impressed by your lovely historic district and outstanding gardens.  The timing and the weather were definitely in your favor.  But you bowled me over with your spectacular window boxes!  All those pretty little boxes stuffed full of beautifully coordinated, perky spring flowers.  So, I'll have to come back (yet again) because you never fail to surprise me!
For the 71st year running, Charleston South Carolina is hosting the Festival of Houses & Gardens.  There are many special events during the festival including house and garden tours.  The festival is organized by the Historic Charleston Foundation and it runs like a well-oiled machine.  I had the pleasure of following one of the Glorious Gardens tours in late March.  It was a rare opportunity to view 8 private home gardens located throughout historic Charleston.  It was a beautiful day.  The sun was shining.  The azaleas, wisteria and other spring flowers were in full bloom.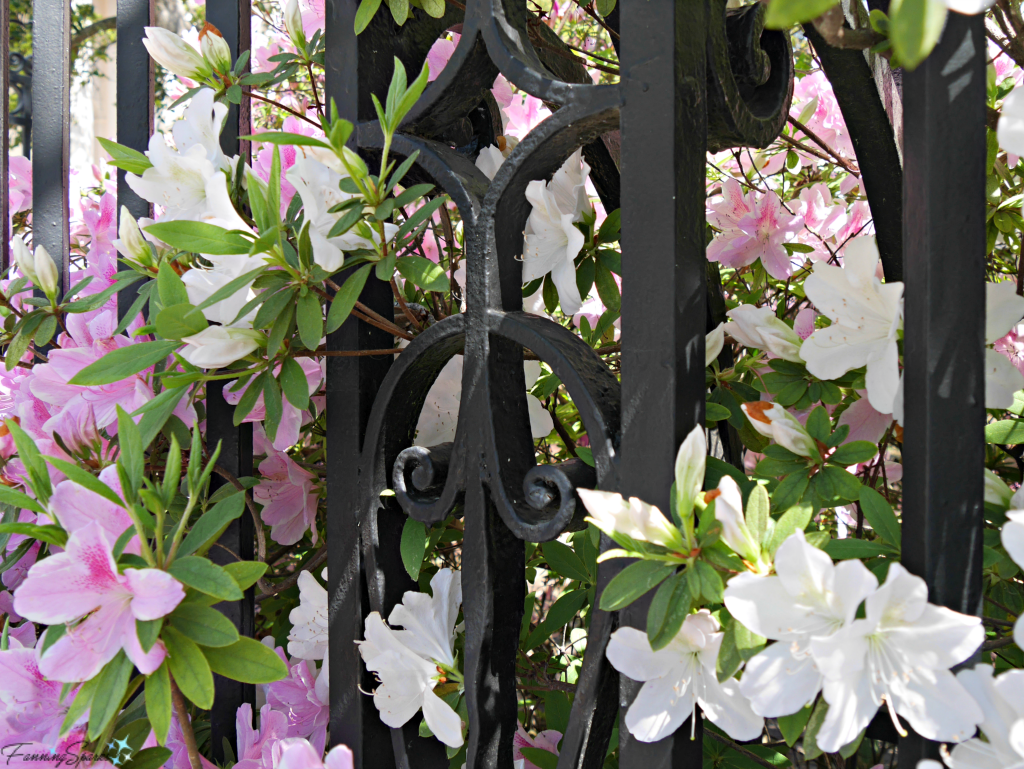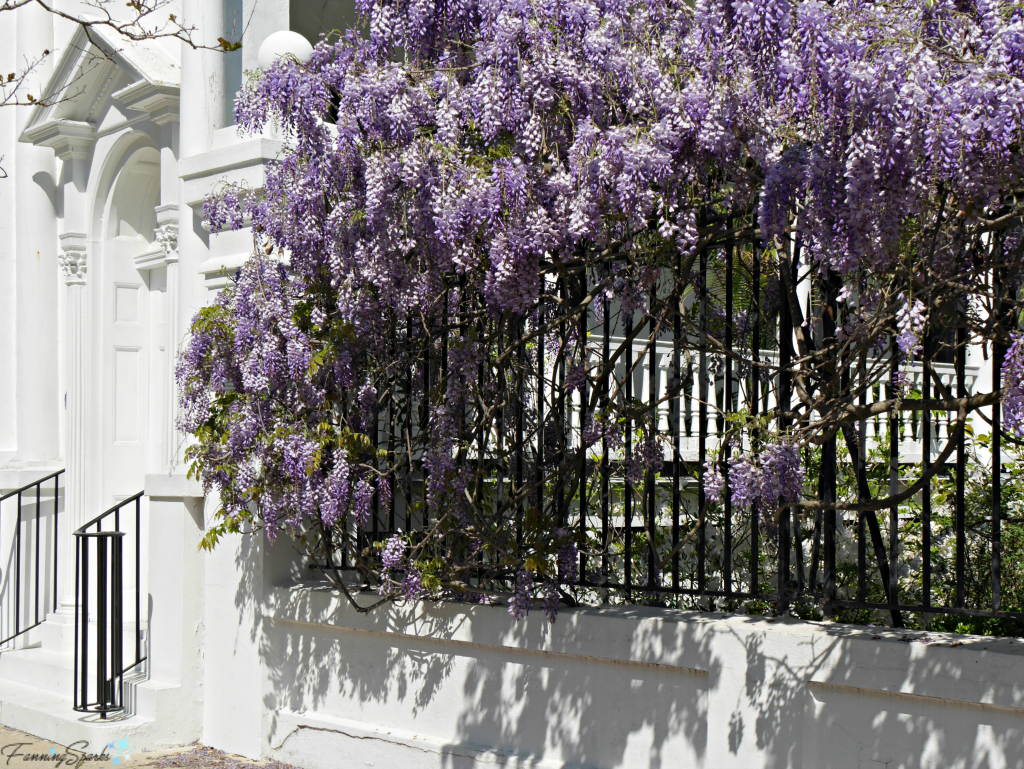 It was an easy stroll from one garden to the next.  And the gardens were, indeed, glorious!  There were lots of lovely details to admire.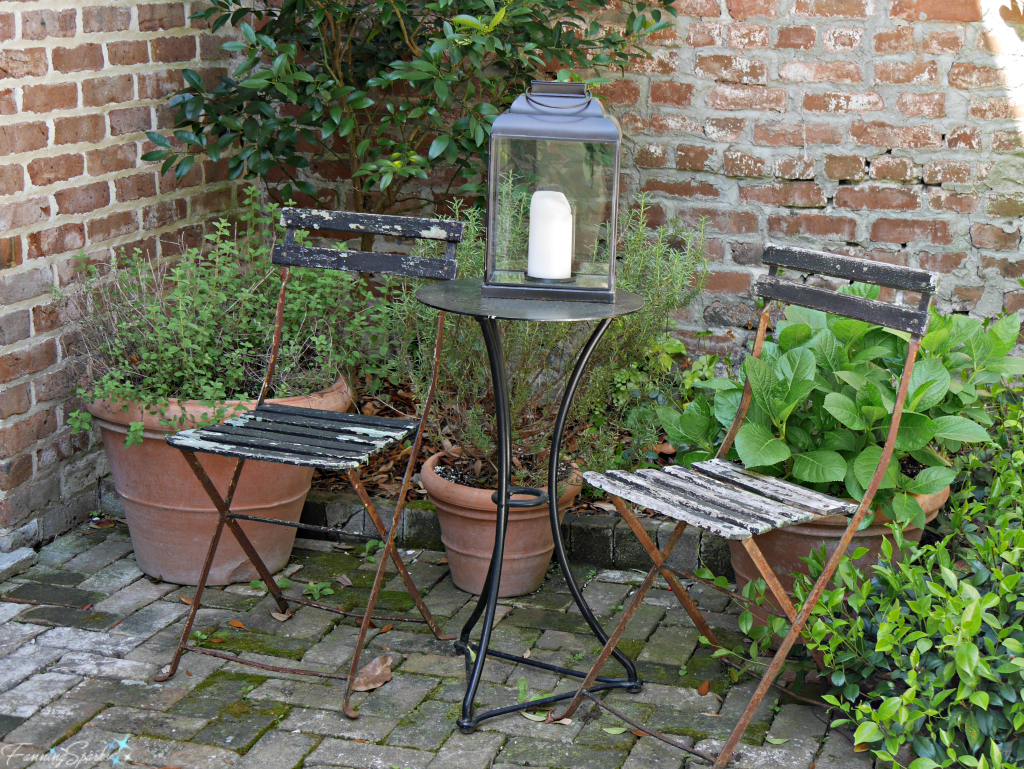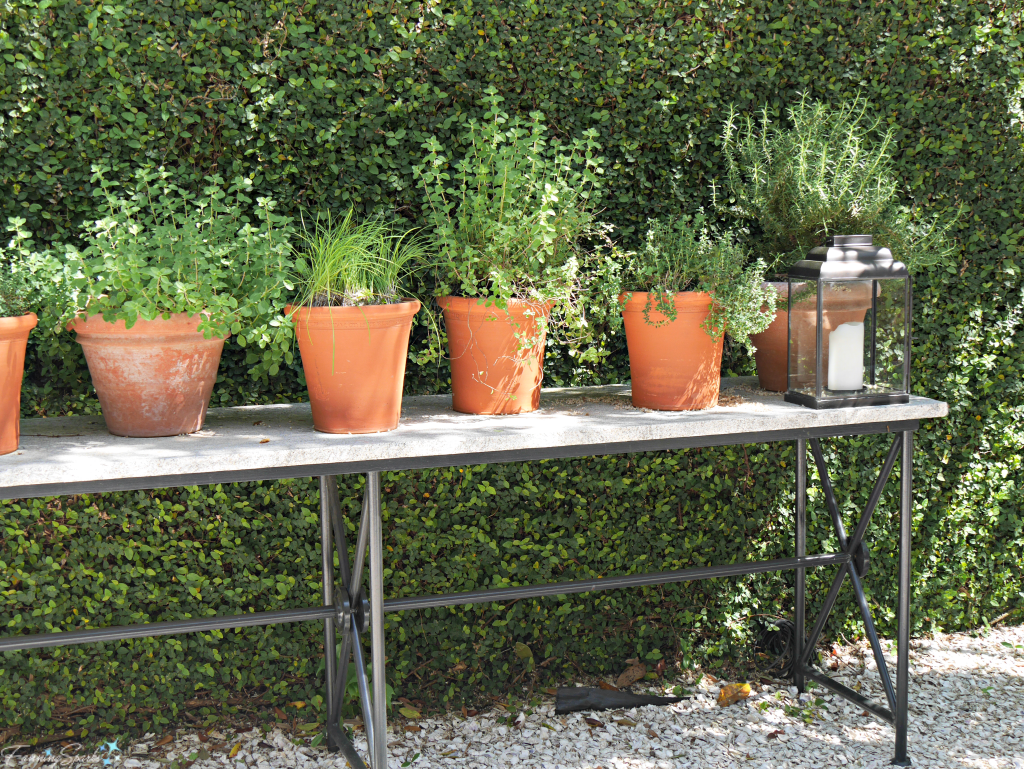 But it was the window boxes that had me clicking away.  One thing that struck me was the impact of multiple, identical window boxes. If one carefully-planted window box is pretty, 3 in a row are spectacular.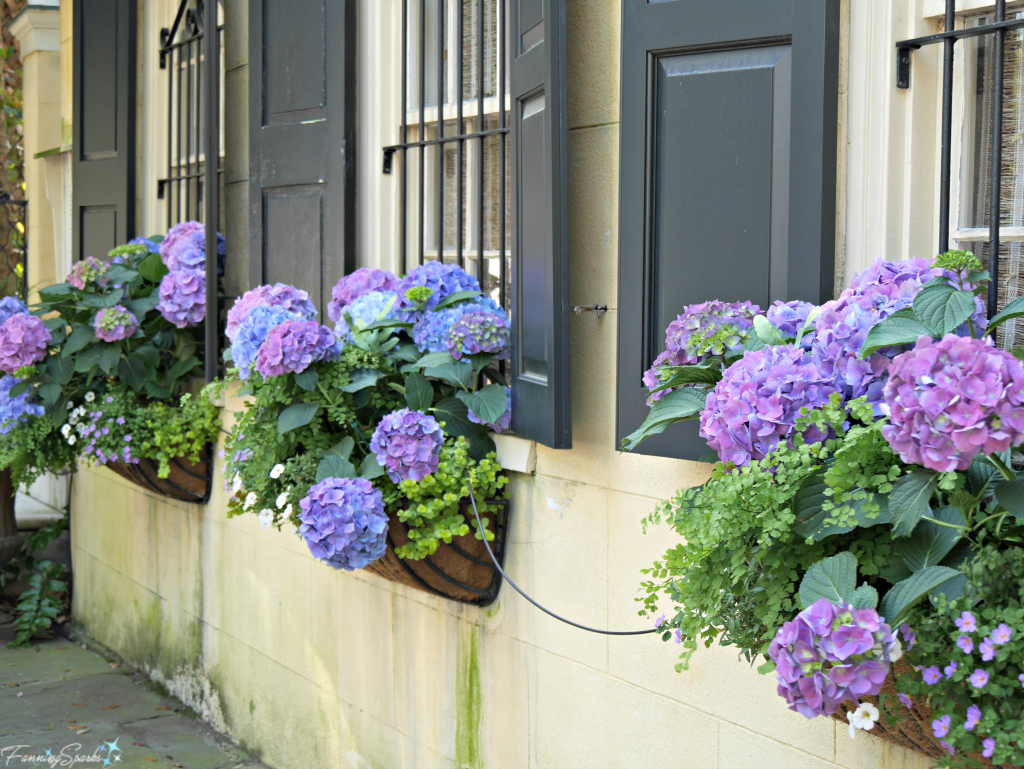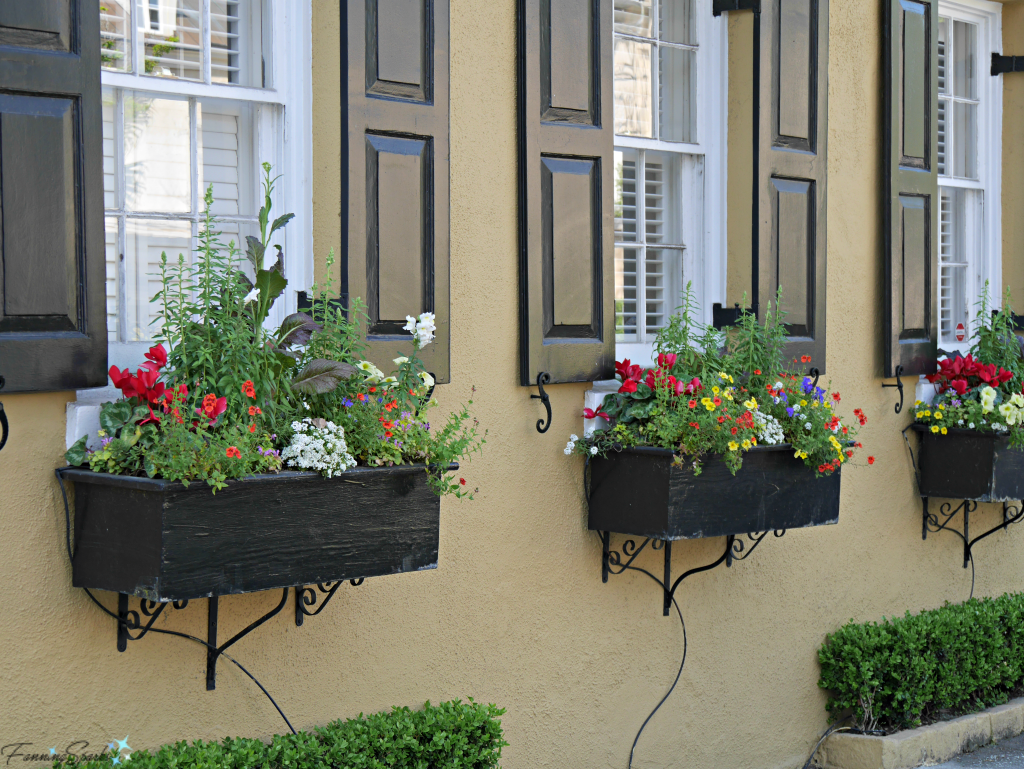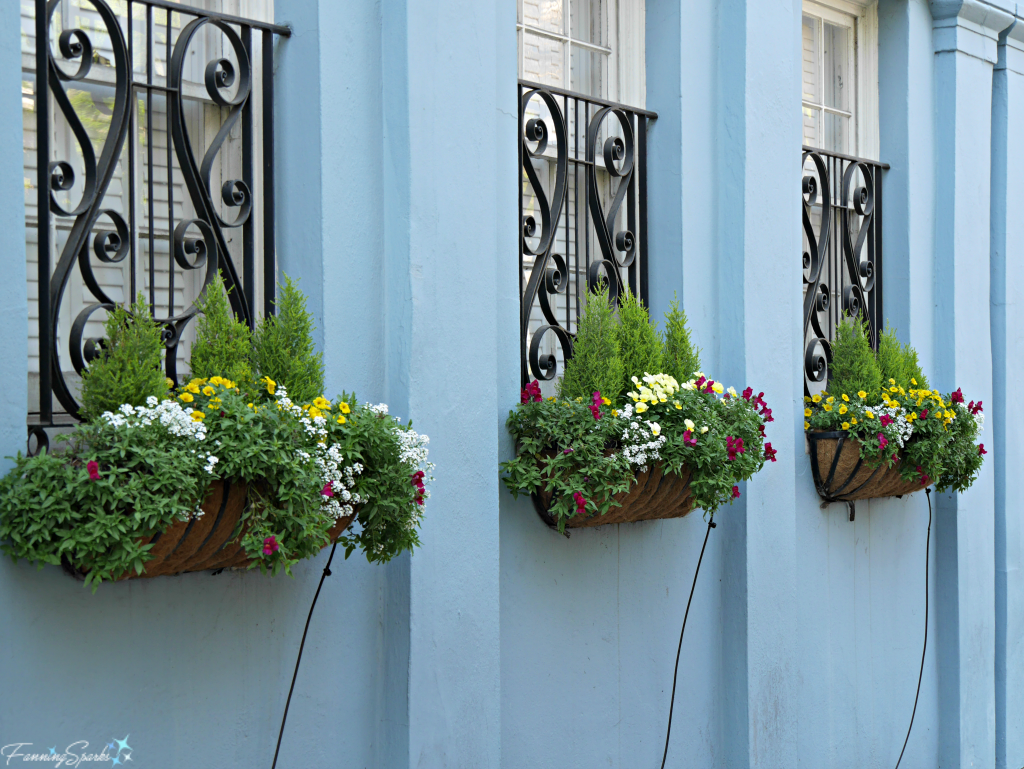 Unfortunately, I can't provide full instructions for recreating these planting schemes because, of course, they weren't labelled.  But I've done my best to include common names of flowers and plants (primarily annuals) where I recognize them.  I also had a little help from the folks at the local garden center.  Please feel free to add/clarify any planting details in the comments.
You may recognize the container planting scheme commonly referred to as "thriller, filler, spiller" in these window boxes.  Essentially, this formula calls for 3 types of plants to create an interesting arrangement.  The thriller is the focal point and is typically substantial and a vertical shape.  The filler is mid-height and… well, you guessed it… "fills in" around the thriller.  The spiller flows over the edges to round it out.  You can have multiple different fillers and spillers but typically there is only one thriller.
The below window box features pansies and other spring bloomers.  Here's my best guess from left to right… burgundy/white-colored pansies; dead nettle 'Red Nancy'; lavender-colored pansies; coral bells 'Black Beauty'; burgundy snapdragons.  I love how the burgundies and lavenders look against the brick.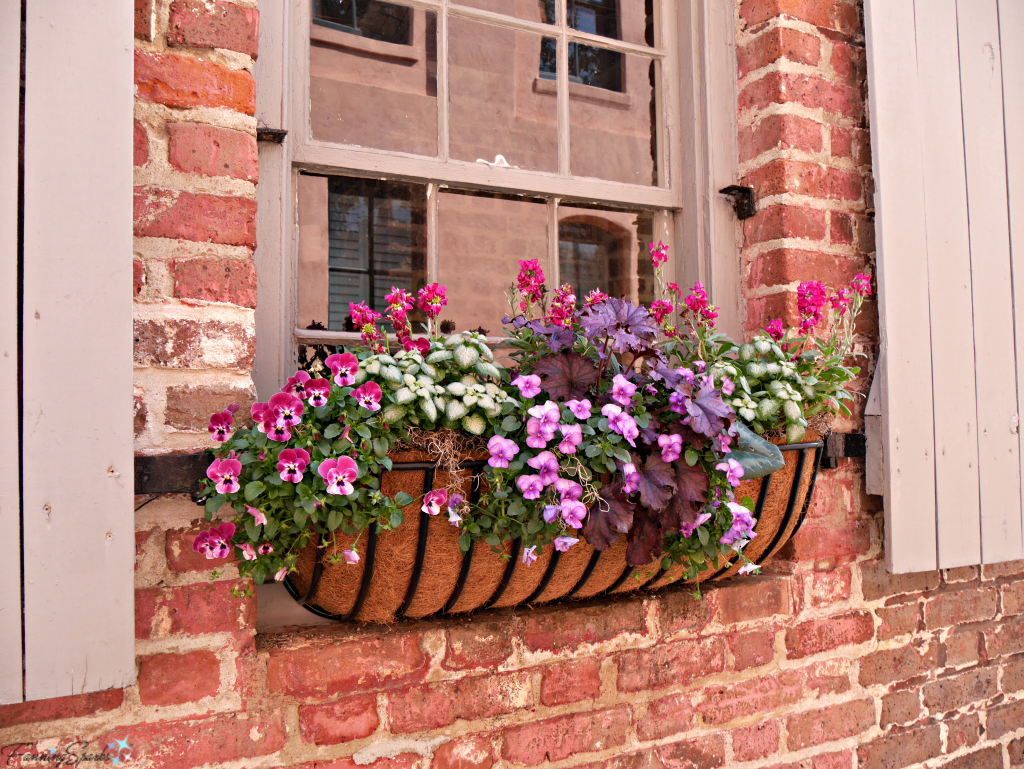 Hydrangeas are definitely the thriller in the below window box.  They're complemented by, from left to right, maidenhair fern, purple-colored bacopa 'Megacopa' and golden creeping jenny.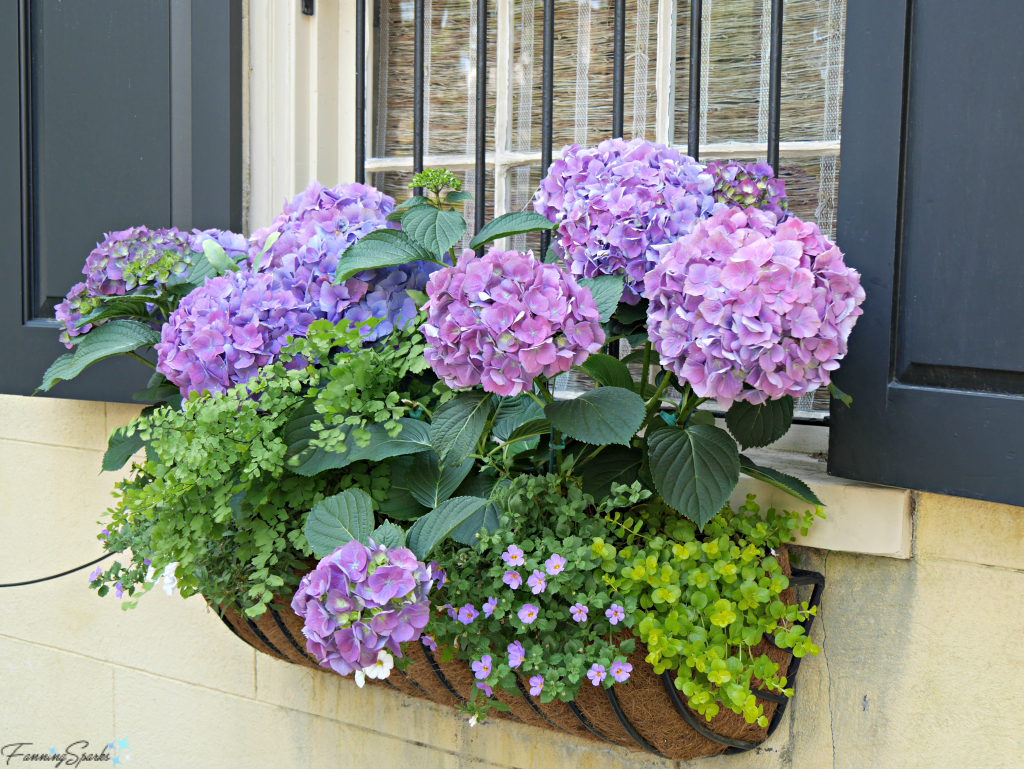 The mini-trees in the below window box are lemon cypress (special thanks to the garden center folks at Southern Home and Ranch Center for identifying this one).  The other plants appear to be yellow pansies, burgundy snapdragons and white sweet alyssum.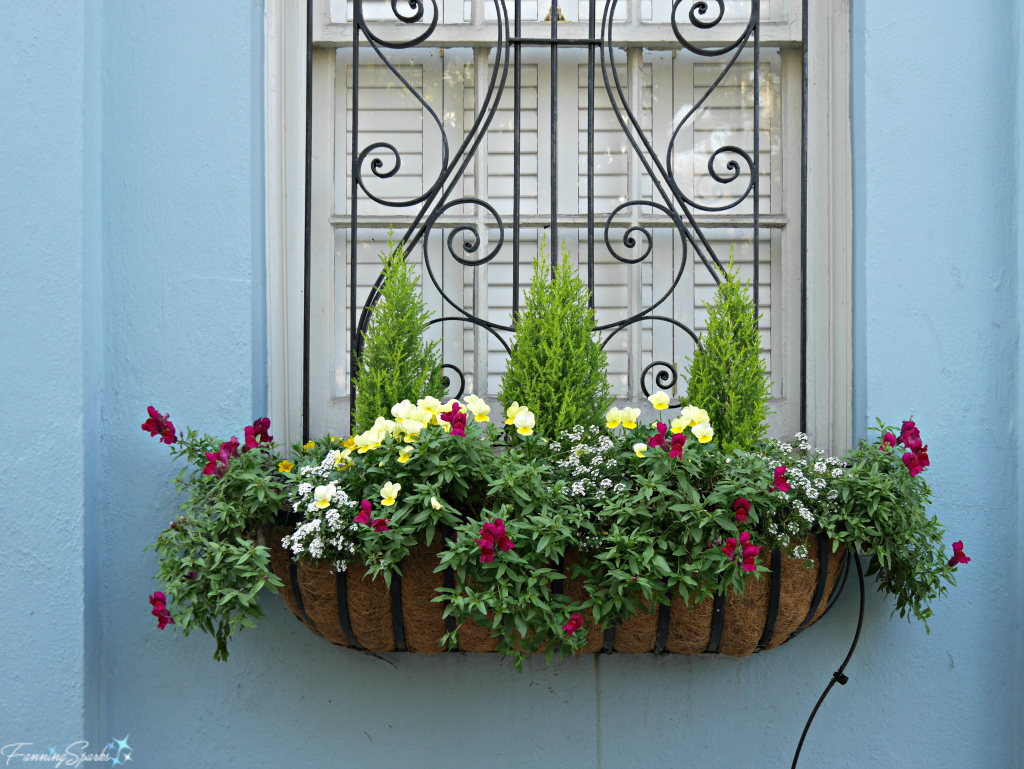 This next window box relies more on foliage and shades of green than brightly colored flowers.  The thriller appears to be a camellia but that implies it will be replaced before it grows to any significant size.  Most of the green and white foliage is a type of variegated ivy.  I believe the bright green leaves with the delicate white/pink flowers are begonias.  The smaller silver leaves appear to be the same dead nettle 'Red Nancy' we saw earlier.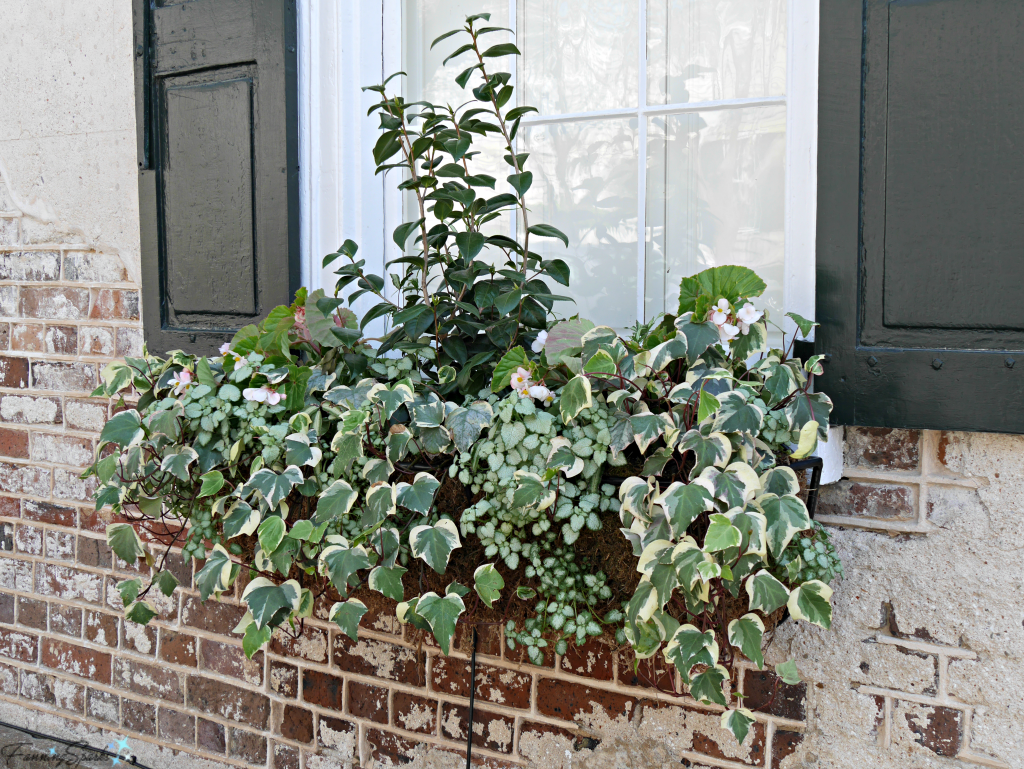 And last but not least, is this pretty little window box showcased against the aqua wall and shutter.  From left to right, I see white cyclamen, white/yellow pansies, ivy, asparagus fern, pink dianthus, dead nettle 'Red Nancy', violet-colored pansies and burgundy-colored snapdragons.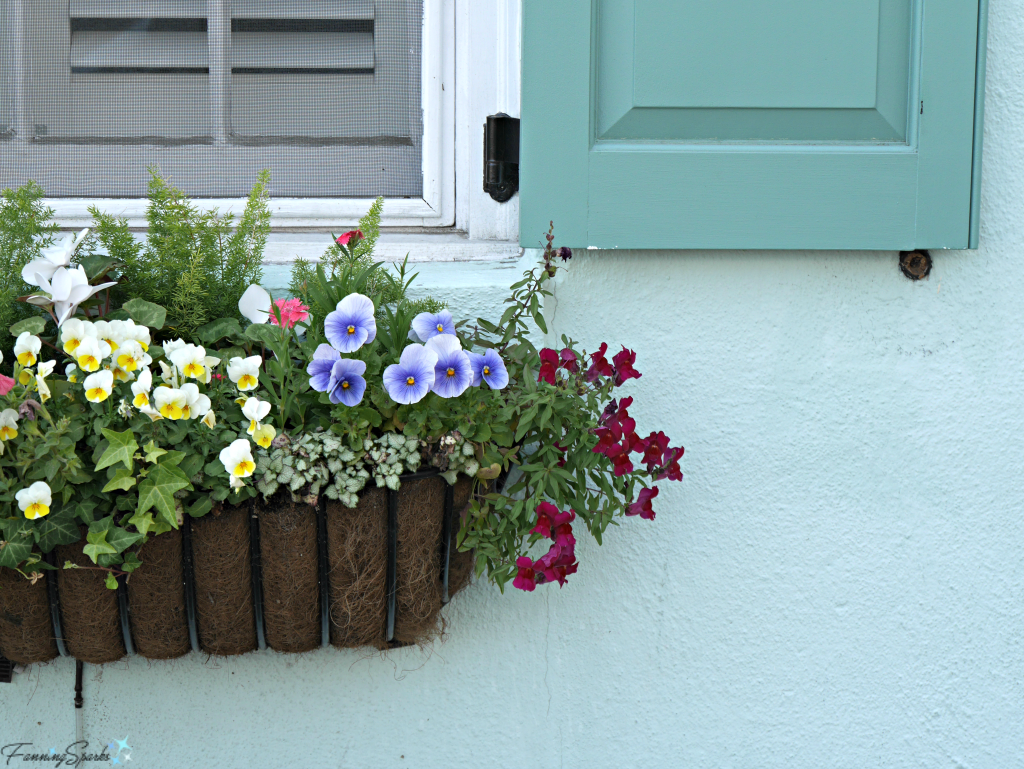 More Info
You can learn more about the Historic Charleston Foundation and the annual Festival of Houses & Gardens on their website.  For 2018, the festival runs from March 15 to April 21.
There are lots of examples and instructions online for the "thriller filler spiller" container planting technique.  Here's a great reference from Proven Winners.
I've learned that you can drop by your local garden center for help identifying plants and flowers.  Thanks again to the fine folks at Southern Home and Ranch Center in Carrollton Georgia.
Today's Takeaways
If you're lucky enough to be in Charleston during the annual Festival of Houses & Gardens, consider taking one of the great walking tours.
Window boxes can add great interest and appeal especially as a group of 3.
The popular "thriller, filler, spiller" container planting technique is equally effective for window boxes.